Announced a few months ago, the HP Z VR Backpack is the professional version of the Omen virtual reality backpack (HP Gaming range) and is finally available.
Our partner HP has entrusted Immersion and vr-bnb with one of the first units available in France. We were eager to test it during the "Journées de l'AFRV" (French Association for Virtual, Mixed, and Augmented Reality as well as 3D Interaction), an annual conference that brings together French academic and industrial experts. The latest edition took place in Rennes from the 24th to the 26th of October 2017.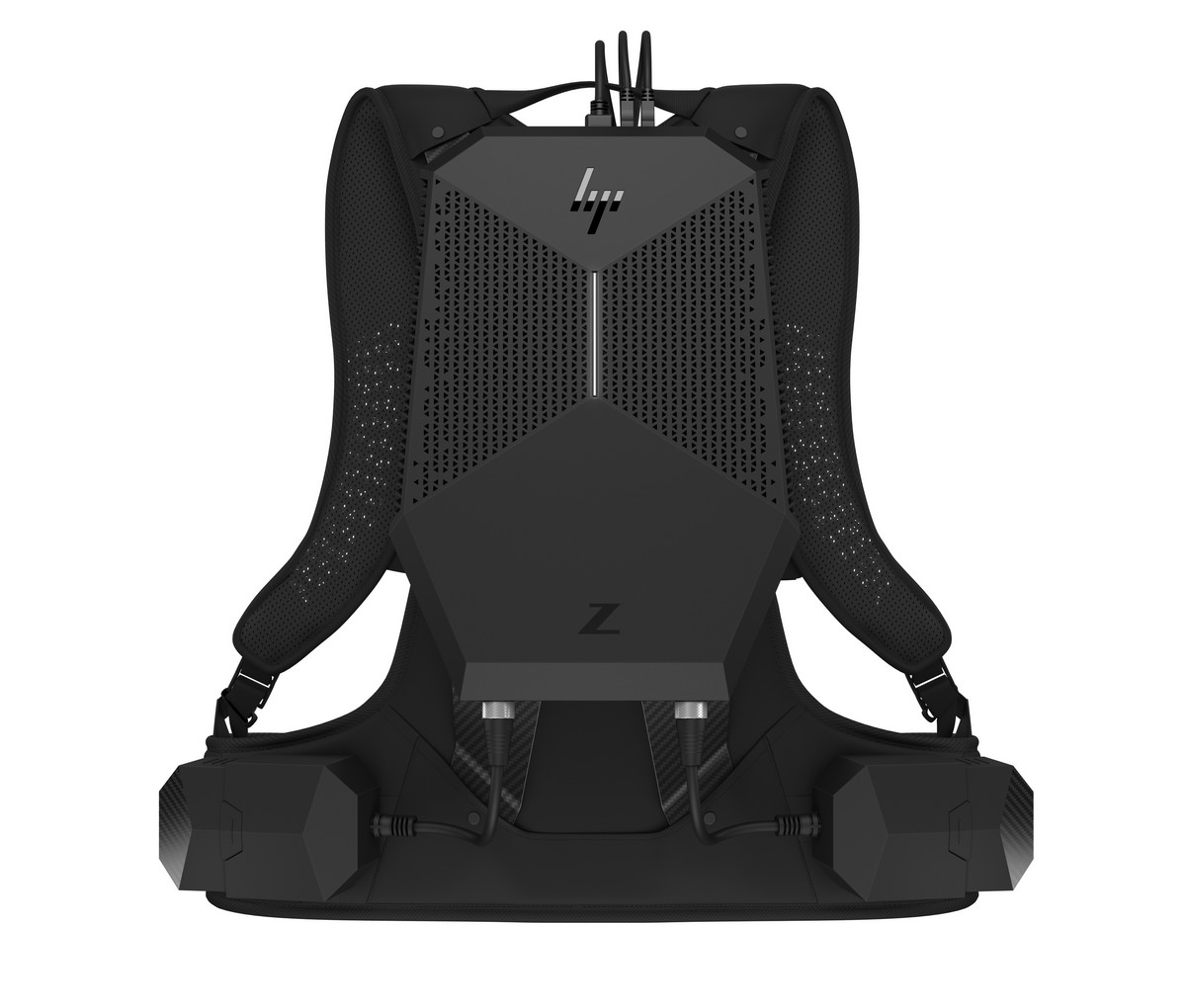 A high-end product
The HP Z VR Backpack is impressive both in terms of its design and the quality of its hardware. Its impeccable manufacturing quality demonstrates HP's expertise in the field. Its robustness combined with a pleasant aesthetic makes this hybrid PC a convincing professional product.
A hybrid PC you say?
Indeed, while the name of the product emphasizes the virtual reality backpack, the HP Z VR Backpack can equally be used as a proper professional workstation through its convenient docking station.
This docking station allows you to easily connect the backpack to a screen and turn it into a desktop computer with an ideal configuration for the development of real-time 3D applications or digital mockup design: processor Intel Core i7 7820HQ, NVIDIA Quadro P5200 graphics card (with 16 GB of RAM dedicated to graphics), 32 GB of RAM. (See technical sheet => download link)
Battery and weight
According to our tests the autonomy announced by HP is close to reality. We tested it in intensive conditions, and the backpack could be used for over an hour without faltering. It may sound insufficient, but it is an aspect for which HP provides an additional battery pack, replacement of which may be done during the session, thus avoiding a long interruption and allowing to extend the autonomy of the backpack while reloading the previous batch of batteries.
It is equally important to keep in mind that the solution is primarily for professionals, which rarely immerse for more than one hour in a row for use cases such as design or project review.
Before testing the product, we were worried about the weight of the solution. The fact is that the entire backpack weighs just over 4.5kg, which is far from excessive, and to our surprise, the weight is quickly forgotten. It is thus, in our opinion, not a constraint for extended virtual reality experiences.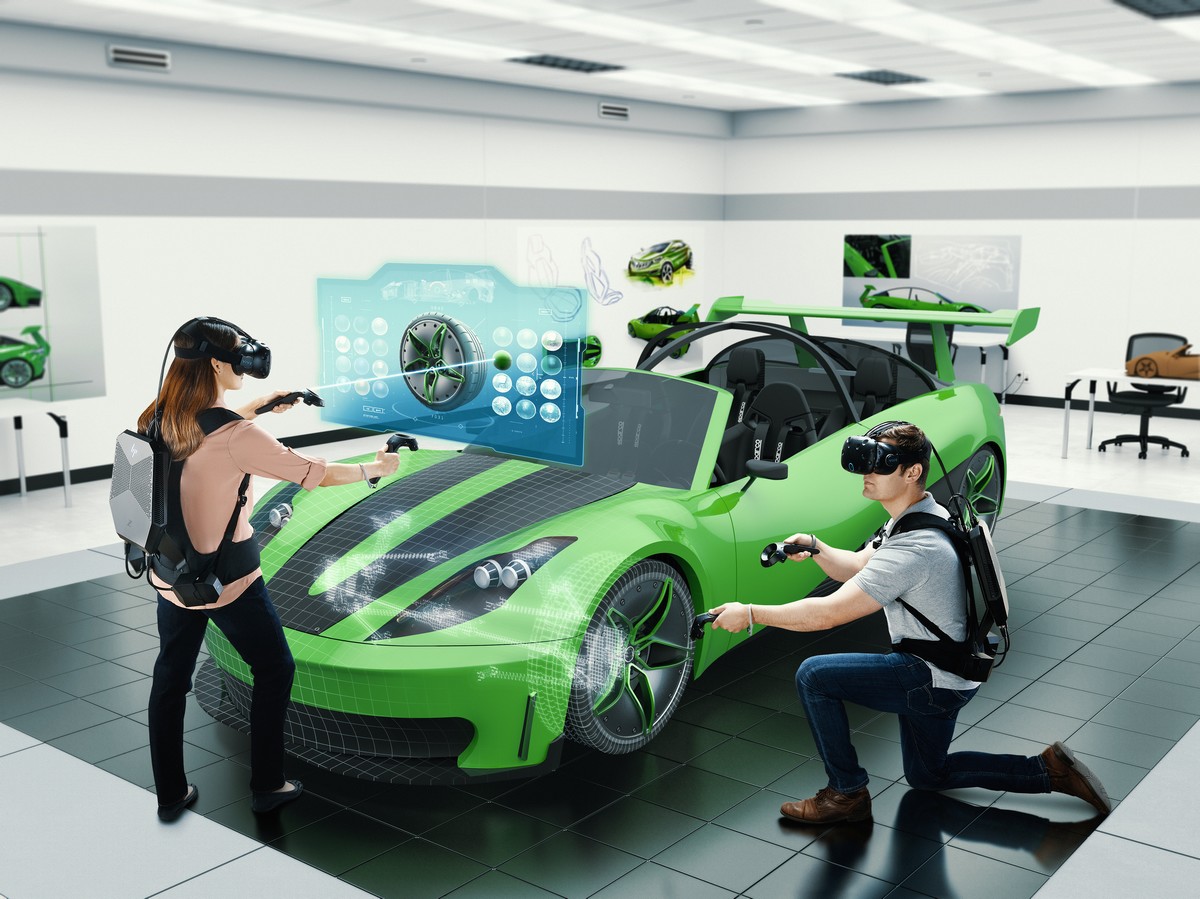 Wireless VR or on-board VR?
Wireless VR headsets are highly anticipated by users as cables remain a strong constraint nowadays, limiting movement and constantly dragging the user back to reality.
The existing solutions that our partner Immersion was able to test (KwikVR, TPCast) certainly appear as promising, but do not reach the quality expected by the most demanding users. The inherent latency of wireless transmission unfortunately still has limitations.
In the realm of mixed reality, Microsoft has struck with the Hololens, which they do not present as a mixed reality headset but as a holographic computer. Although the power is limited, a wireless experience with an on-board computer makes a substantial difference.
Regarding the Z VR Backpack, HP seems to succeed in bringing together the best of those two approaches: the computing power of a real workstation as well as the freedom of movement with limited constrains.
(For your information: a wireless connection using the Miracast technology also allows a user to visualize the headset's content and use an external control screen. Unfortunately, nor us nor our partner Immersion has had the opportunity to test this feature.)
User feedback
As mentioned in the introduction, this test was performed during the "Journées de l'AFRV". For two days our partner Immersion was able to let dozens of savvy users test the solution. Their positive feedbacks confirmed our impressions as the solution impresses through its ability to succeed in being used as a well performing VR backpack and a daily workstation. Some were already considering this option as part of a future replacement of their workstation.
Conclusion
Let's get straight to the point: we were convinced by the product. While we identified one or two weaknesses, we swiftly moved past them as the clever ideas and positive points implemented are many.
Through this backpack, HP succeeds in its aim and now offers a complete and effective virtual reality solution with its Windows Mixed Reality headset, as well as the integration of a module allowing to directly connect an HTC Vive Business Edition.
Advantages
A real embedded VR PC, which can be used as a professional workstation the rest of the time
Increased freedom of movement
Configuration adapted to professional use
Well-designed accessories
Disadvantages
Depending on body type, weight could be an issue for very long working sessions
Slightly weak autonomy without the additional battery pack
Available on the HP store and cornershop.immersion.fr.